Bloomberg
NYC Waterfront Towers Get $385 Million in Construction Loans
November 16, 2022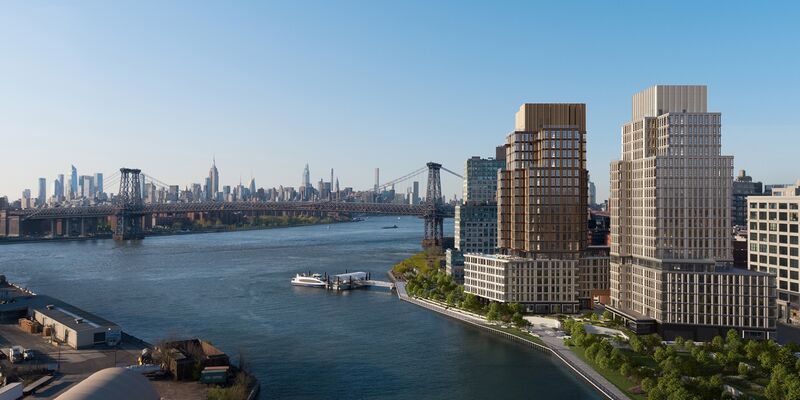 A real estate project on Brooklyn's waterfront obtained $385 million in construction loans, a sign of confidence in New York's residential market at a time when rents are plateauing and apartment sales have slowed.
Plans for the project, on Kent Avenue in the Williamsburg neighborhood, call for three towers with a total of 471 rental units, 90 condos and retail space. Completion is expected by 2025 at an expected cost of $550 million, according to developer Naftali Group and Len Blavatnik's Access Industries, the site's majority owner.
It's set to break ground as home purchases have slowed in New York and elsewhere as soaring mortgage rates cut into affordability.
Rent increases also are leveling off after a frenzied summer: The median in Brooklyn last month was up just $2 from September, according to Miller Samuel Inc. and Douglas Elliman Real Estate.
"I prefer to build during a downturn and be ready with a product when we really think the market will be back," Miki Naftali, the founder and chief executive officer of Naftali Group, said in an interview.
Rising rates have also pressured financing deals. Originations for commercial and multifamily mortgages decreased 13% in the third quarter from a year earlier, the Mortgage Bankers Association
reported.
Bank OZK provided $310 million in senior financing for the project, and $75 million in junior debt was originated by Barings, according to Naftali.
Little Rock, Arkansas-based Bank OZK has been an active lender in the New York City area, with $3.9billion in outstanding real estate loans — about a fi fth of its total portfolio — as of Sept. 30.